OPENING RECEPTION SAT. SEPTEMBER 26th
7PM – 10PM
EXHIBIT FEATURED 09.26.15 – 11.02.15
ARTIST TALK (session 1) WED. October 14th (7PM-9PM)
ARTIST TALK (session 2) SAT. October 24th (3PM – 5PM)
Drawing is one of the oldest forms of human expression: Over 30,000 years ago, artists drew herds of bison racing across the rock walls of Grotte Chavet. In more recent times, drawings were considered problem-solving exercises, with emphasis on observation and investigation; they were produced as preparation for the more privileged media of painting and sculpture. But today, many artists use drawing as their primary or only art form. "The Drawing Show" focuses on artists whose aesthetic practices focus on drawing.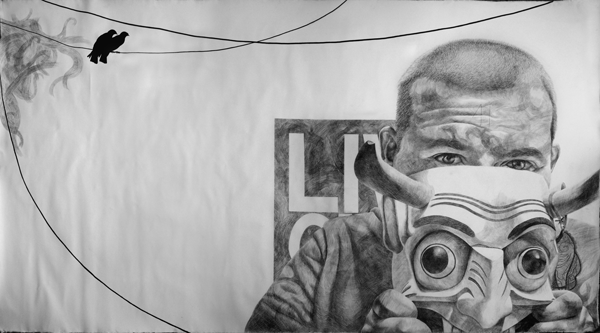 ABEL ALEJANDRE uses his consummate skill with graphite pencils to produce mural-scaled drawings that grapple with his identity and personal past. Mil Mascaras depicts the artist behind a devil mask from his native Michoacan, Mexico. A lacey bra hangs on one of the devil's horns, suggesting a sexual and perhaps illicit engagement.  http://abelalejandre.com/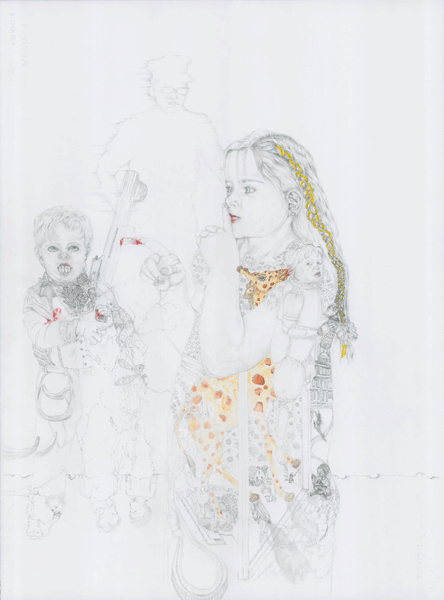 JODI BONASSI creates surreal worlds that are densely populated by both human and spiritual entities. Her series of gun-themed drawings look at the affects of violence on children. http://www.jodibonassiart.com/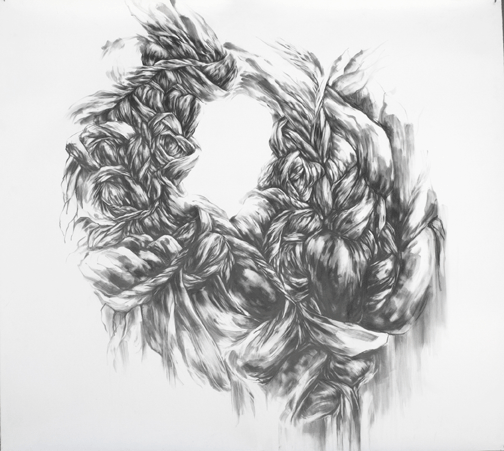 NANCY BAKER CAHILL creates graphically powerful images of tightly woven abstract images. At times, she rips her drawings into petal-like shapes that are re-assembled into sculptural forms. http://nancybakercahill.com/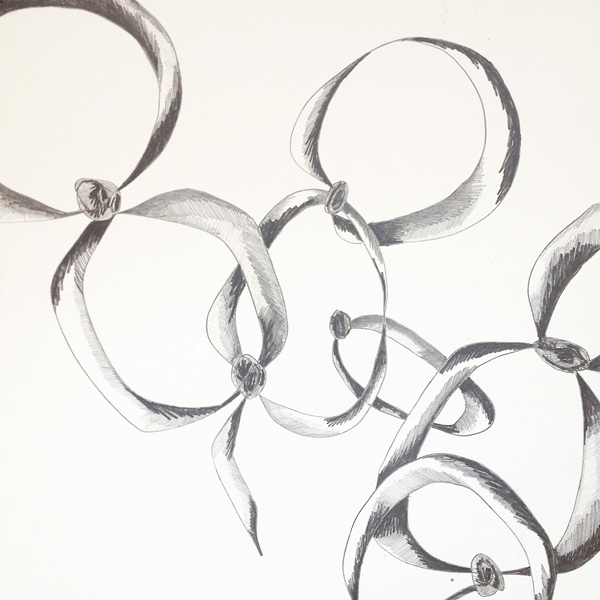 SUSAN FELDMAN's drawings are extensions of her sculptural and installation work. For "The Drawing Show," she has created a string drawing that angles up the stairwell and is punctuated by claybord renderings of knots and tangles. http://susanfeldmanart.com/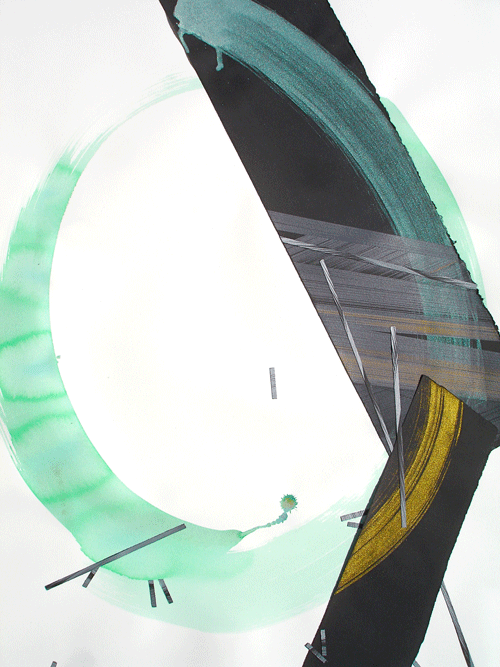 JOANNE JULIAN's oeuvre is based on Asian traditions, sometimes with specifically Zen iconography (i.e., the remarkable series of Zen Circles), and sometimes with spiritual attention to the natural world, whether it be birds or blossoms. http://www.joannejulian.com/home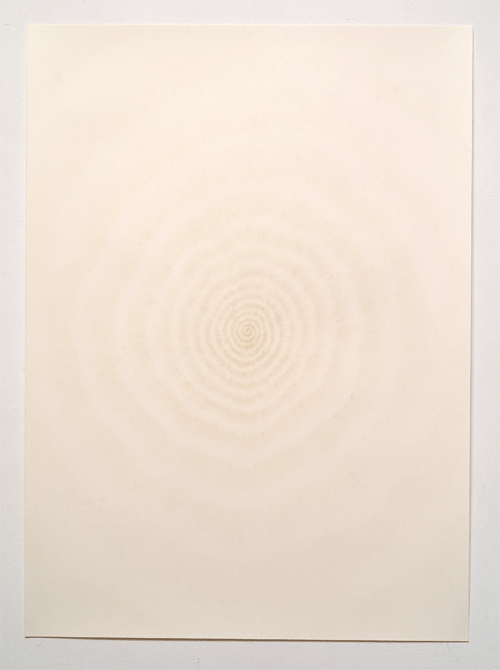 ECHIKO OHIRA creates drawings so subtle the viewer must slow down and spend quiet time to see them. Spirals echo in graphite silence, almost disappearing into the whiteness of the paper.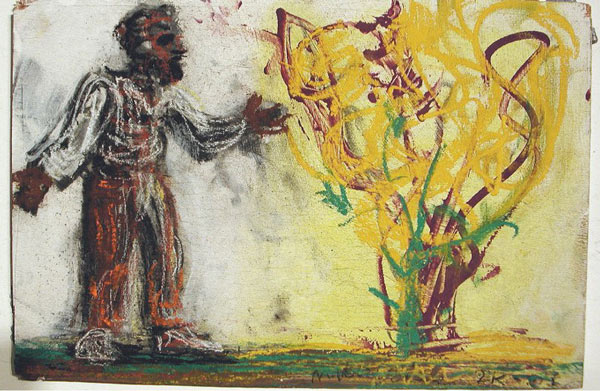 MILO REICE allows the history of art to flow through him with expressive fervor. Figures are sketched and scribbled across horizontal bands, inviting viewers to imagine narrative interactions. http://miloreice.com/MiloReice/intro.html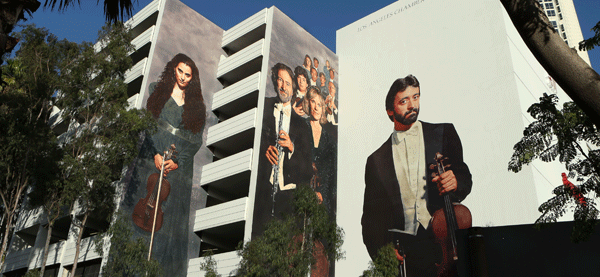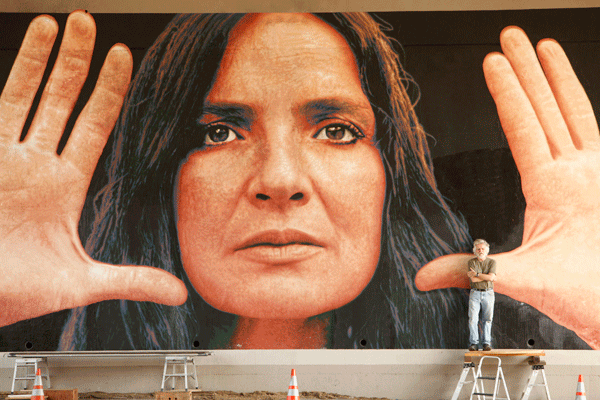 KENT TWITCHELL's famed murals are based on the precision of his portraits. For this exhibition, we have selected Twitchell's portrait studies of several famed individuals, from Olympic athletes to jazz singers to the woman who inspired one of his renowned freeway murals. http://www.kenttwitchell.org/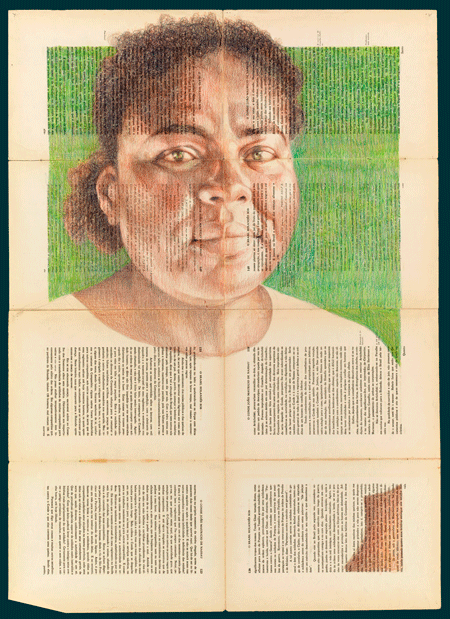 J. MICHAEL WALKER portrays strong and beautiful women and the powerful spirits that watch over them, in his colored pencil drawings of Afro-Brazilians and the Orishas. www.jmichaelwalker.com/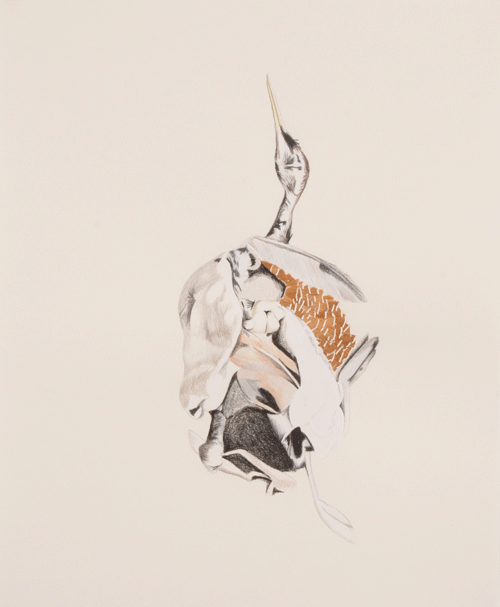 ANDRE YI's mixed media drawings of dead birds include pencil shavings, poured paint, and collage components–as well as precise graphite renderings. http://www.andreyi.net/
Exhibition Curator – Betty Ann Brown
Betty Ann Brown is an art historian, critic, and curator. She has a Ph.D. in the History of Art and teaches at Cal State Northridge and Pasadena City College.
Brown has curated several major exhibitions, including retrospectives for Hans Burkhardt, Roland Reiss, Linda Vallejo, and John White; as well as themed exhibitions addressing alternative families, community, and environmental issues. She has written dozens of critical essays, for Arts, Artscene, and Artweek; as well as numerous exhibition catalogues, for Don Bachardy, Merion Estes, Susan Feldman, Cheri Gaulke, Joanne Julian, Joan Kahn, Meg Madison, and Kim Yasuda, among others. Brown's books include Exposures, Women & Their Art (1989); Expanding Circles: Women, Art & Community (1996); Gradiva's Mirror: Reflections on Women, Surrealism & Art History (2002); the online textbook Art & Mass Media (2005); Hero, Madman, Criminal, Victim: The Artist in Film & Fiction (2009); and Afternoons with June: Stories of June Wayne's Art & Life (2012).
Brown was featured in four History Channel programs, did a series of discussions about art history for eHow online, and was recently interviewed on KPFK. She organizes of "Contemporary Art Conversations," an ongoing series of panel discussions between critics and artists that convenes in various Southern California venues.
click for an introduction to our session one featured artists